Visual Studio 2012 Application Lifecycle Management Virtual Machine & Labs with VirtualBox
If you are interested in learning and playing around with the new features in Visual Studio 2012 and Team Foundation Server 2012, but do not have access to a TFS 2012 environment yet (or maybe you get slapped on the wrist every time you try to install something new on your work machine), then the Visual Studio 2012 Application Lifecycle Management (ALM) Virtual Machine is for you.
The ALM demo virtual machine includes both Visual Studio 2012 and Team Foundation Server 2012, plus you also get 20 hands on labs that walk you through all of the new features. The demo virtual machine is only good for a trial period of 180 days, but you can most likely expect a refreshed version of the virtual machine from Microsoft before then.
VirtualBox Support
The demo virtual machine will also work with VirtualBox, even though the blog post and release notes state the machine is built for Hyper-V.
To run the virtual machine with VirtualBox, download and expand the self-extracting RAR files first, following the instructions provided in Brian Keller's blog post.
After extracting, you now need to create a new virtual machine using VirtualBox. When creating the new virtual machine, specify Windows 2008 (64-bit) for the VM operating system.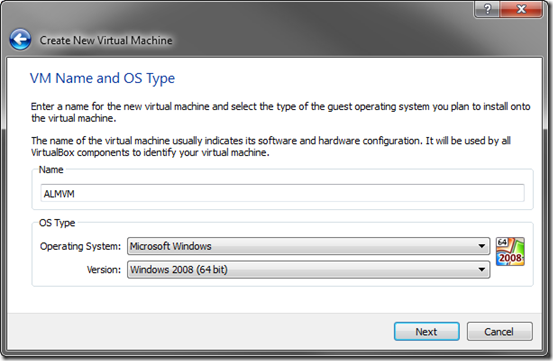 Specify an appropriate amount of memory for your new virtual machine on the next screen. The amount of memory you designate for your virtual machine may vary on the hardware in your machine.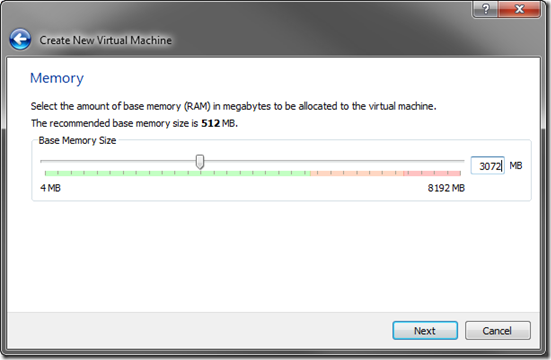 For the Virtual Hard Disk, specify "Use existing hard disk" and locate the vhd that was contained in the folder structure generated by the self-extracting RAR files.
You're almost done – click Create!
After creating, you will need to make sure you do one last step. Hyper-V will only build a bootable IDE hard disk, so you will need to change the settings of your new virtual machine to attach the hard disk as a bootable IDE, instead of SATA, which is the default. Just delete the existing hard disk, which was by default attached via the SATA controller, and add a new hard disk using the IDE controller, again pointing to the vhd which you extracted earlier.
Thanks to Olof Szymczak for explaining how to open a Hyper-V VM in VirtualBox.
You are done. Launch your ALM virtual machine and "get your learning on!"